The Tapsations and Rich Foti go country at November AARP luncheon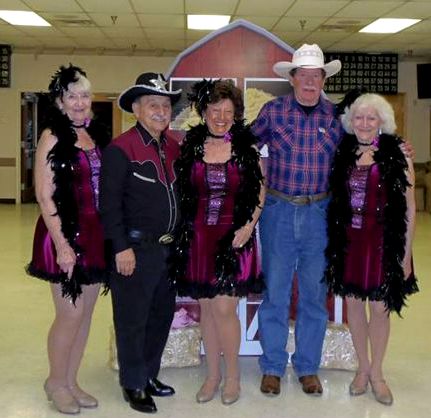 The Tapsations and Rich Foti performed their Country Western Show for AARP Chapter 4903 Nov. 20 at the American Legion Post 28 in Long Neck. Shown (l-r) are Josie Schroeder; Rich Foti, soloist and master of ceremonies; Sharon Kreitzer; AARP Chapter 4903 Immediate Past President John Ballantyne; and Joyce Fitch.
The fabulous Tapsations and Rich Foti dazzled the AARP Chapter 4903 members at the Nov. 20 luncheon at American Legion Post 28 with their Country Western Show. Three colorful costume changes provided interludes during which Rich Foti sang familiar songs which many joined in. This well-known local dance team of three women plus singer/moderator Foti performs regularly in Sussex County.
AARP Delaware state representative John Barnes dropped in and briefly spoke about recent tax and fraud issues involving seniors.
Chapter 4903 next meets for the holiday luncheon and presentation Wednesday, Dec. 18, at American Legion Post 28, 31768 Legion Road, Millsboro. This final luncheon of the year is where officers and directors are installed by Barnes. There will be lots of poinsettias to take home as well.
Reservations are required and must be made by Friday, Dec. 13. Cost is $12 for members, $12.50 for nonmembers. For more information and reservations call Lynn at 302-644-8774 or Ruth at 302-945-4510.