OUR PROGRAM THEMES
We have a variety of program themes which include a "Country Western Show" , "50's Sock Hop" , "Love Songs" , "Destination USA" , "Favorites from the Decades" , "Classics of the 20's, 30's & 40's", "The Sky's The Limit" , "Happy Days" , "Beach Island Rhythms" , "Patriotic - Stars & Stripes" , "Halloween" , "St. Patrick's" , and "Christmas Holiday" shows.
You can view photos of each show theme by clicking on the links above or view our Photo's Link.
"5 - 6 - 7 - 8 - Tap!"
We originally learned to tap dance as children. Then, some 40+ years later, we were joined together by a common bond - - the passion for tap dancing. Since 2002, it has been a yearly 12-month commitment that has withstood the ups and downs in our personal lives and we are still tapping together. We are fortunate that all three of us had such a good foundation of tap dance combinations so that we can learn our new routines quickly and we are able to change our show themes every 8 - 12 weeks.
Tap dancing really keeps us "young at heart". It keeps our minds alert and our weekly practices are great exercise (and, it sure beats working out at the gym!)
Since forming, we have taken tap classes at various dance studios and we practice each week at the Lewes Senior Center. In the spring of 2013, we started working with a professional Artistic Director to further our tap technique.
"DO YOU MAKE YOUR OWN COSTUMES?"
We get this question all the time. No, we order our costumes and each one of us has over 150. However, we spend a lot of time embellishing the costumes with lots of glitz and sequins and we order extra accessories to go with them. A couple of years ago, Joyce remarked that she officially had more costumes than she did clothing.
How did Rich become a Tapsation?
Rich was President of the Lewes Men's Community Chorus and he loves to perform. Originally asked by us to be a "fill in" while we changed our costumes in the shows, he now sings, MC's our programs, attends classes with us and he dances in a number of our routines. He enjoys singing all types of songs but his favorites are Rat Pack and Country Western tunes.
Performances
We perform throughout all of Delaware as well as in Maryland and New Jersey. We have danced in several dance studio's yearly recitals. We entertain at various service organizations, retirement communities and at private events. Each year we dance in two annual shows with the Lewes Men's Community Chorus. We also perform with Clear Space Theatre Company in Rehoboth Beach in their Broadway Legends productions.
Entertaining at Retirement Communities
A typical show at a Retirement Community begins with all of us participating in unloading the equipment -- sound system, speakers, microphones, stands, costumes, shoes, hats, large inflatable props, stand up posters, etc. from the van.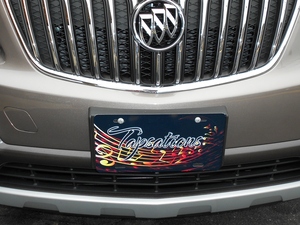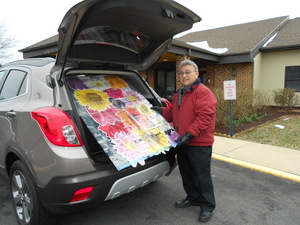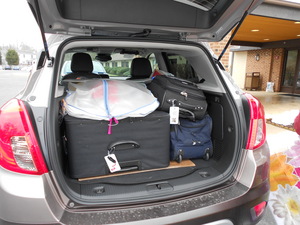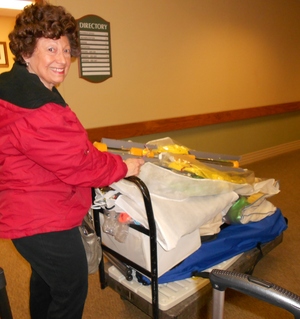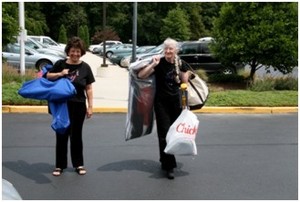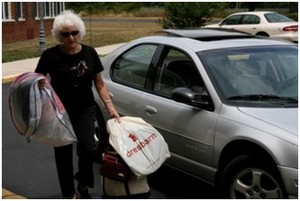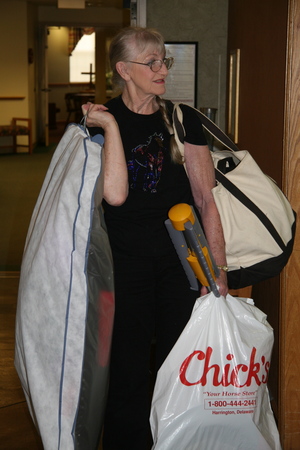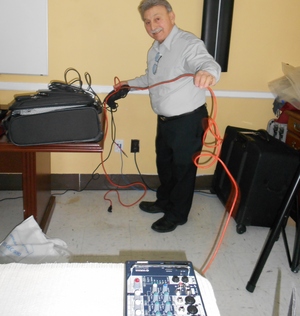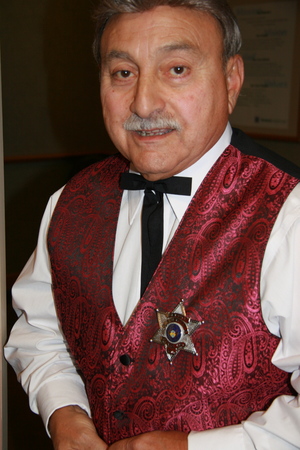 While Rich is busy in the entertainment area setting up the sound system, the girls are busy organizing and changing into their costumes: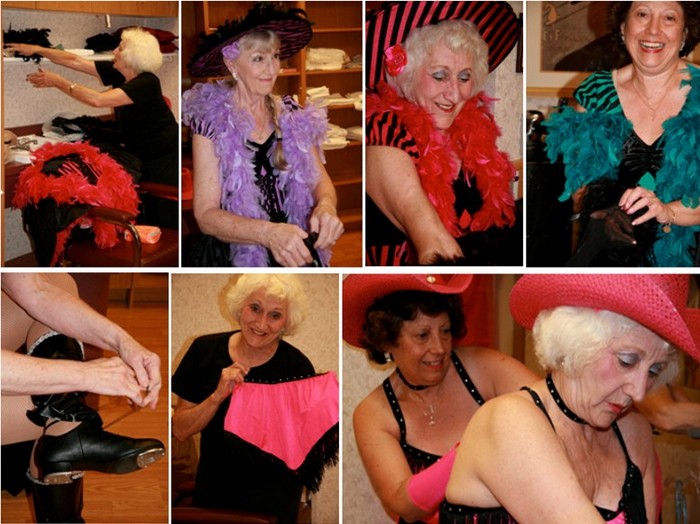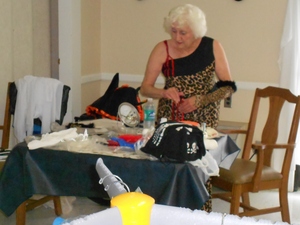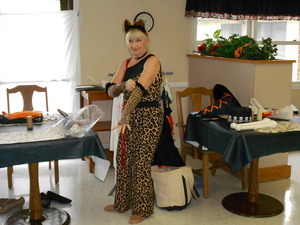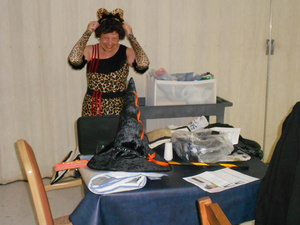 There have been so many stories and wonderful experiences we have shared during our performances at the Retirement Communities.
One day while we were setting up for the show, Sharon stopped to speak to a lady sitting in the hallway. I asked her if she was coming to our show. She kept her head down and just shook her head "no". I knelt down to speak with her and asked her how long she had lived in this beautiful home. She sadly stated "I just moved in yesterday". I said, "We are going to sing and dance for you and all of the people who live here in your home at 2:00 PM today. Maybe you'd like to come and see us." She didn't answer me. After the show started and we were dancing our first dance, I looked out and saw her sitting in the front row, smiling from ear to ear. After the show, I took her hand and she said to me, "I am so happy you asked me to come to the show. I really enjoyed it and I feel a lot better now".
We always conclude our shows with everyone singing and swaying to "Let There Be Peace On Earth" and then before we tear down the equipment and change our costumes, we walk out into the group of residents and hold their hands and speak with them one-on-one.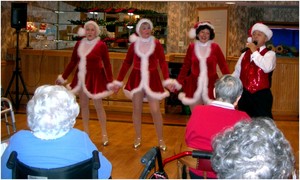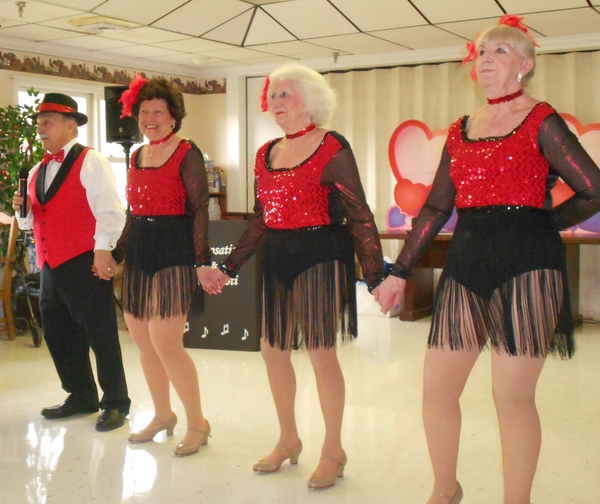 It is this time that is the most rewarding for us. The residents really open up and talk to us and are so appreciative. We visit a lot of the facilities 5 or 6 times a year and we know a lot of them by name. Some tell us how wonderful we are and some have tears in their eyes and ask us if we can come back again tomorrow. Of all the shows we perform, the shows at the retirement communities are the most gratifying.