TAPSATIONS, FOTI TO PERFORM SPRING SHOW MAY 8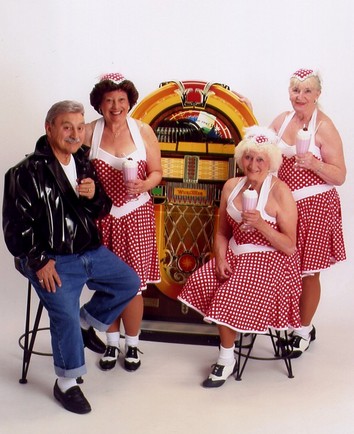 THE TAPSATIONS! AND RICH FOTI will perform in combination with the Lewes Men's Chorus at the annual Spring Show, Moments to Remember - The Fabulous 50s, set for 7 p.m., Saturday, May 8, at Bethel United Methodist Church Fellowship Hall, 4th and Market streets, Lewes.
Guests can get ready for a rockin' good time when the chorus and dancers take them back to the days of sock hops, leather jackets and poodle skirts, performing many classic jukebox favorites.
Founded in 1988 by musical director Bill Earl, the Men's Chorus presents concerts in May and December. Both groups entertain for local events and retirement communities throughout the year. Tickets are $ 5 and are available at the door. Light refreshments will be served after the show. Shown are (l- r) Rich Foti, Sharon Kreitzer, Joyce Fitch and Josie Schroeder.